2023 – 2024 Staff
Editors
Rachel Bolen
Rachel Bolen (she/her) is a senior at Ball State University. She is majoring in Psychology and Sociology, and minoring in Counseling. In addition to her position as a reviewer at Psyche, she has been an Admissions Communications Ambassador for the Ball State Admissions department since spring 2021. As an ACA, she interacts with prospective students by congratulating them on their admission to Ball State, reminding them about Preview Days, and more. Her main research interests are mental health and human sexuality. After she graduates, she plans on attending graduate school to become a counseling psychologist. Outside of academics and employment, Rachel enjoys going to local music shows, baking, watching television (her current favorite is Law & Order: SVU), and spending time with loved ones.
Avery Langdon
Avery Langdon (she/her) is a 2nd year graduate student in the Clinical Psychology program with a minor in Clinical Mental Health Counseling. She also works as the Learning Specialist for Student Athlete Support Services where she runs a study table program for at-risk athletes. After finishing her master's, she hopes to become licensed as a counselor and go back to school for her Ph.D. in Clinical Psychology. She hopes to specialize in exposure therapy for OCD and Anxiety Disorders as well as contribute to the research in this field.
In her free time, Avery likes to spend time outside, read, play cozy video games, and cuddle her three cats and dog!
Sadie Naughton
Sadie Naughton (she/her) is a senior at Ball State University. She is a psychological science major with minors in both counseling and women & gender studies. Formerly, she worked as a research assistant for the Educational Psychology department and was employed by Ball State Recreation. She currently works as a student assistant in the Burris Laboratory School counseling center. She will also be coaching 6th grade volleyball for Burris Laboratory School until the end of September. She plans to attend graduate school and obtain a master's degree in Clinical Mental Health Counseling. In her free time, Sadie likes to read, hike, thrift, and watch fall movies.
---
Faculty Supervisor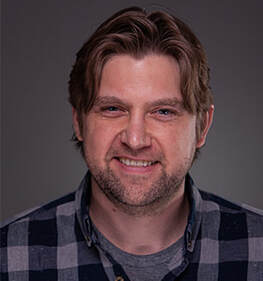 Dr. Adam Lueke
Dr. Adam Lueke is an Associate Teaching Professor in the Department of Psychological Science at Ball State University. He has a Ph.D. in Experimental Psychology with a focus on Social Psychology. He teaches Psychological Statistics and Research Seminar, and his research interests include mindfulness, cognitive biases, and political correctness.